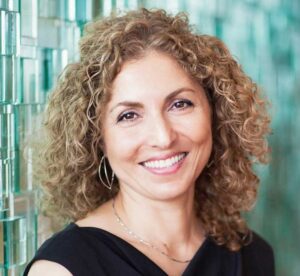 Anousheh Ansari is a CEO of the XPRIZE Foundation, the world's leader in designing and operating incentive competitions to solve humanity's grand challenges. Ansari, along with her family, sponsored the organization's first competition, the Ansari XPRIZE, a $10 million competition that ignited a new era for commercial spaceflight. Since then, she has served on XPRIZE's Board of Directors.
Ansari captured headlines around the world when she embarked upon an 11-day space expedition, accomplishing her childhood dream of becoming the first female private space explorer, first astronaut of Iranian descent, first Muslim woman in space, and fourth private explorer to visit space. Ansari was listed in Fortune magazine's "40 under 40" list in 2001 and honored by Working Woman magazine as the winner of the 2000 National Entrepreneurial Excellence Award.
Prior to being named CEO of XPRIZE, Ansari served as the CEO of Prodea Systems, a leading Internet of Things (IoT) technology firm she co-founded in 2006, and continues to serve as the executive chairwoman. Ansari serves on the World Economic Forum's (WEF) Global Future Council and has received numerous honors, including the WEF Young Global Leader, Ellis Island Medal of Honor, and STEM Leadership Hall of Fame, among others. She is a UNESCO Goodwill Ambassador and serves on the board of Jabil and Peace First, as well as several other not-for-profit organizations focused on STEM education and youth empowerment.
Ansari also co-founded The Billion Dollar Fund for Women, announced in October 2018 at the Tri Hita Karana (THK) Forum on Sustainable Development in Bali, with a goal of investing $1 billion in women-founded companies by 2020.
She published her memoir, My Dream of Stars, to share her life story as inspiration for young women around the world. In 1993, Ansari, her husband Hamid, and brother-in-law Amir, co-founded Telecom Technologies Inc., using their savings and corporate retirement accounts, as deregulation happened in the US telecommunications industry. The company was a supplier of softswitch technology that enabled telecom service providers to enhance system performance, lower operating costs and furnish new revenue opportunities. The company, headquartered in Richardson, Texas, offered products that allowed the integration between existing telecom networks and application-centric, next-generation networks via software switch technology. Telecom Technologies was acquired by Sonus Networks, Inc. in 2001 in a stock-for-stock transaction for $10.8 million shares of Sonus stock. Ansari became a vice president of Sonus and general manager of Sonus new Intelligent IP division.
Ansari holds a bachelor's degree in electronics and computer engineering from George Mason University, a master's degree in electrical engineering from George Washington University, and honorary doctorates from George Mason University, Utah Valley University, and International Space University.