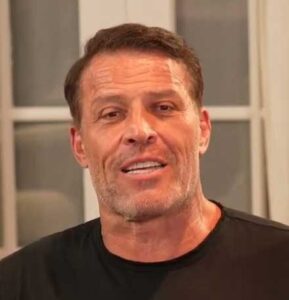 For over 4 decades, more than 50 million people have enjoyed the warmth, humor, and transformational power of Tony Robbins' business and personal development events. He is the nation's #1 Life and Business Strategist.
Author of six internationally bestselling books, including the recent New York Times #1 best-seller MONEY: Master the Game and UNSHAKEABLE, Robbins has empowered more than 50 million people from 100 countries through his audio, video and life training programs. He created the #1 personal and professional development program of all time, and more than 4 million people have attended his live seminars.
Robbins is the chairman of a holding company comprised of 40 privately held businesses with combined sales exceeding $5 billion a year. He has been honored by Accenture as one of the "Top 50 Business Intellectuals in the World"; by Harvard Business Press as one of the "Top 200 Business Gurus"; and by American Express as one of the "Top Six Business Leaders in the World" to coach its entrepreneurial clients. Fortune's recent cover article named him the "CEO Whisperer," and he has been named in the top 50 of Worth magazine's 100 most powerful people in global finance for three consecutive years.
Robbins' work has touched the lives of top entertainers — from Aerosmith and Green Day, to Usher and Pitbull. Athletes like Serena Williams, Andre Agassi, and the Golden State Warriors seek his advice. Billionaire business leaders do as well; hedge fund manager Paul Tudor Jones and Salesforce.com founder Marc Benioff are among those grateful for his coaching.
As a philanthropist, through his partnership with Feeding America, Robbins has provided over 400 million meals in the last 3 years to those in need. He is on track to provide a billion meals over the next 7 years. He has also initiated programs in more than 1,500 schools, 700 prisons, and 50,000 service organizations and shelters. Robbins provides fresh water to 250,000 people a day in India in order to fight the number one killer of children in that country — waterborne diseases.